A comprehensive PACS solution, 100% web-based application built from scratch with fully fledged functionality: Priors, Reporting, Measurements, Filming, Hanging Protocols, and Media Creation.
PAX.V is designed for stand-alone or multi-site environments and assures life-critical redundancy, scalability and reliability.
It is available as a Vendor Neutral Archive (VNA).
The database provides a unified data view and a common interface for all users.
PAX.V is an imaging platform that can be integrated with third party applications.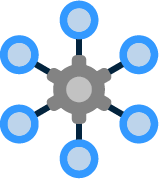 PAX.V supports single patient, multi
MRN, multiple HIS/RIS, and multiple
hospital scenarios.
It is an enterprise repository for all
medical images providing instant
access to a patient's complete
imaging history.
>  Automatic Cross-Modality Image Linking
The application recognizes when users are in the process of comparing two exams. The easy-to-use linking feature works for cross-modality comparison as well as current and prior studies from the same modality.
Referring physicians can directly access reports from the work list and from the images through one click. Additionally, an audit trail of the imaging history shows prior reports.
Key images are automatically created if a user annotates or marks up on an image and then saves the presentation state. The PACS will automatically create a summary series of these key images and clinicians can choose whether to automatically display the key image or not.
A fully web-based DICOM server, up-loading and downloading as you go. Brings clinical applications onto one point and enables customization.
PAX.V 100% Zero Footprint Application