Based on ADVINTIC's Healthcare Data Model (HDM), this is an innovative concept of how to model data from the real world of healthcare to be handled, transferred, and communicated in the digital world. The solution ensures an unrivaled level of integration and reliability.
Asset and Stock Management
»  Full tracking of all used materials/items as part of the daily workflow e.g. contrast media, bandages, Alcohol, etc.)
»  The system updates the price of the exam with relevant costs tied up to the usage of the listed items.
»  The inventory controller can print outputs/reports from items added, returned, wasted, etc.
Administration and Clinical Data Management
»  Patient Registration and scheduling — Arabic Names
»  ASSIST is our One-Stop-all-in tool for all needed
functionality for easy, efficient, and frictionless patient
registration and scheduling.
»  ESMY: Automatic bilingual name translation.
»  Merge/split of patient IDs with Automatic patient
selection/addition via auto-complete with patient
Information.
»  Automatic study/procedure selection via
Auto-complete using study ID or study name.
»  Automatic physician selection/addition via Auto
complete.
»  Automatic insurance contract selection.
»  Inpatient and ward management, with bed status
tracking, swapping and capacity flagging.
»  Appointment Management Tool: Standard appointment
processing. Ability to merge appointments and patient
arrival (work order) on one step.
»  Automatic time-slots optimization using Auto-fetch,
this ensures the best appointment time from free schedule
slots.
»  Full workflow status classification: Reserved,
scheduled, in progress, completed, reported, reviewed, and
delivered.
»  Workflow customization: User can redefine different
flow of operations to meet different views on optimizing
the working process.
»  Color-coded workflow status
»  Interface with modality via Worklist.
»  Department workflow management.
»  Result(s) Entry and Delivery including faxing and
e-mailing of clinical reports.
»  Reporting and printout.
»  Statistical & customized reports
»  Patient Tracking.
»  Technical Files Creation.
»  Modality and Material management.
»  Billing
»  Multi Planar Reformatting (MPR)
»  Maximum Intensity Projection (MIP)
»  Real Time Interactive orthogonal, oblique, and
double-oblique cuts
»  Max and Minimum Intensity projections
»  Interactive slab thickness adjustments
»  Side by side MPR/MIP for current and prior exams
»  Generate and store in patient folder image series
created with preset movies
»  Triangulation (linked cursors)
»  Window/Level presets, zoom/pan, interactive edge
enhancement
»  Advanced Measurement tools (distance, (open) angle,
points, profile, free contour, vessel diameter).
»  Web-based User Interface
»  DICOM Interfaces
»  HL7 Interfaces (Health Level 7- healthcare messaging
protocol)
»  WADO Interfaces (Web Access to a DICOM Object)
»  Audit Record Repository (ARR)
»  Media Creation
»  XDS/XDS-I (Image document sharing protocol)
»  AI Platform for Chest X-Ray Augmented Automatic Diagnosis (NOT Trained specifically for COVID-19)
CARE.V Enterprise Resource Planning
It is designed for stand-alone or multi-site environments. The database provides a unified data view and a common interface for all users. It comes with RIS.V and PAX.V.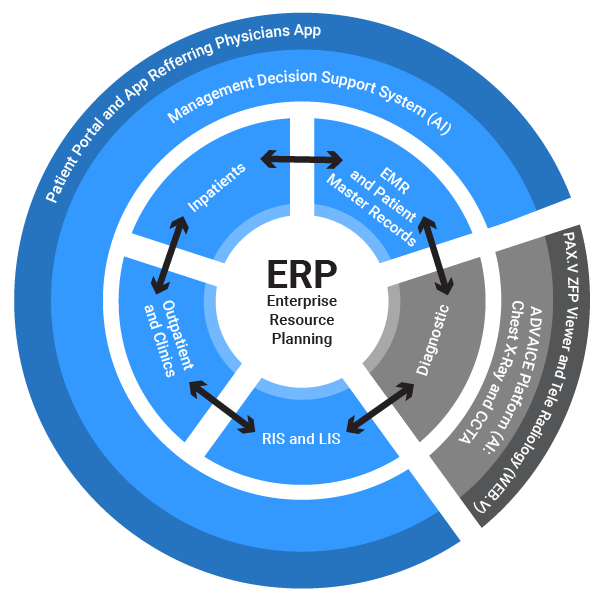 Care.V has a robust data model which meets industry standards for integration, including the implementations of IHE transactions and conformance to DICOM and HL7.